Everything is in play this November...including your life
Looking at the grim reality before Americans under Trump and voting in 2020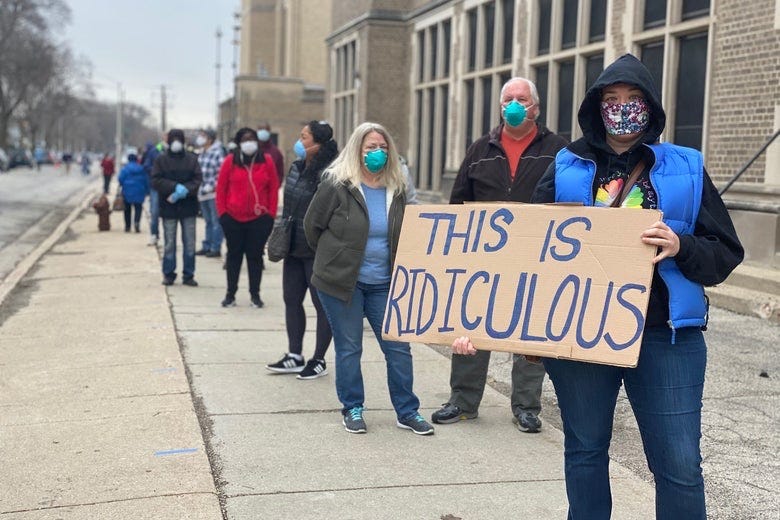 Vote Or Die. (Vote And Die?) Milwaukee, Wisconsin voters standing in long lines for hours on April 7, 2020 during the coronavirus pandemic. One of the lowest points for America in the month of April under Trump. Photo: Patricia McKnight/Milwaukee Journal Sentinel


The US presidential election is 168 days away, and today Michigan became the latest state to say that it would mail out absentee ballots for every voter in the state. This is great news, even as the risk of the US Postal Service's endangerment this September grows. The states must continue the mailing of ballots to voters, and it must happen in all 50 states.

Earlier this month California governor Gavin Newsom announced the state would be mailing every voter a ballot ahead of the November 3 election. In the US various forms of vote-by-mail exist, including in Oregon, which is an exclusive vote-by-mail only state.

This November in the US is more significant than the previous 243 Novembers in the US. The upcoming presidential election (and all the down ballot races in your city and state, notably the US senate and your state legislature) is not just about bringing about a semblance of sanity back to the United States of America.

The November 2020 US election is literally about saving your own life.

If you had to cast a vote if voting would save your life, wouldn't you do so?

Republicans are hoping for precisely the opposite effect: that you not vote at all due to the coronavirus that is certain to come around again this Fall.

To put this as bluntly and in the most unvarnished, psychopathic manner possible: Republicans in power are interested in killing as many people as they can before November 3 rolls around.

Sadly, in a country disturbingly numbed and indifferent to death, that powerful truth shouldn't shock anyone.

Exhibit A: Wisconsin

The Republican-controlled Wisconsin Supreme Court overruled the state's Democratic governor Tony Evers, who had issued an executive order to shut Wisconsin and only have vote-by-mail participation in the presidential primary of April 7, 2020, due to the coronavirus pandemic. On top of that, Milwaukee, the state's most populous city, closed 175 of its 180 voting precincts owing in part to the lack of poll workers, whom, mostly elderly, understandably did not want to subject themselves to the coronavirus and the vast fatality it has inflicted on swaths of elder populations.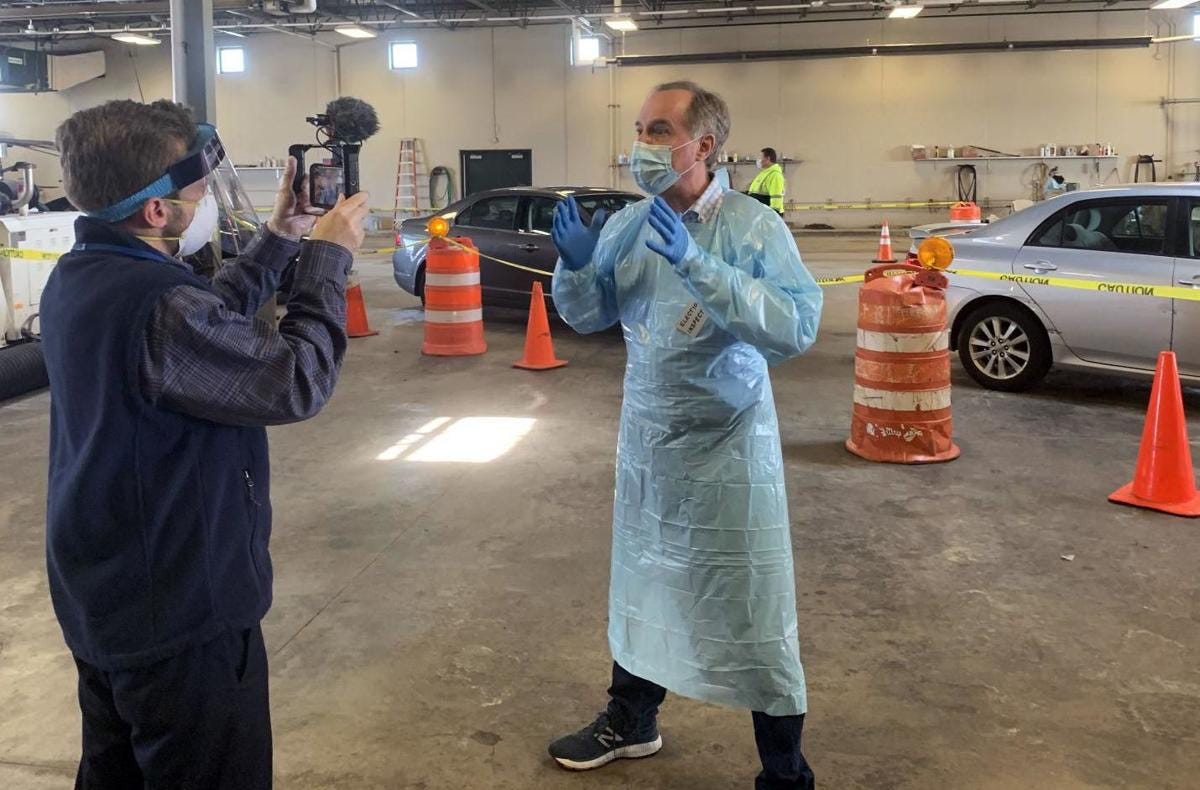 Don't worry, it's okay to vote! Republican Assembly Speaker of Wisconsin Robin Vos on April 7, 2020. "You are incredibly safe to go out!" He actually said that. Dressed like that. Photo: Stephanie Jones/Racine Journal Times


Milwaukee, a predominantly Black-populated city, has over 600,000 residents. Hardy voters waited in the cold and the coronavirus for at least two hours to cast their vote. On the ballot besides presidential hopefuls Bernie Sanders and Joe Biden was Wisconsin Republican Supreme Court Justice Daniel Kelly, a draconian judge who Trump was touting for re-election. Voters risked their lives and ousted him, voting for the Democratic candidate Jill Karofsky, whose victory reduced the state's Republican majority to 4-3. Kelly won't be leaving the Court until July 31.

At least 52 people in Wisconsin tested positive for coronavirus after the April 7 vote, though it is unclear how many of those were voters who waited on line. It is also unclear whether any of those who tested positive died.

(Almost as sad is that nearly every state in the country is reopening despite cases of coronavirus increasing and the testing of only three percent of the US population.)


Exhibit B: Donald Trump's Death Cult Extraordinaire (aka Jim Jones II)

Donald Trump talks about death a lot. And a lot more than a lot.

Trump talks about death as if it is a golden chalice. He drinks from it. Just ask Clorox.

Last week Trump talked about "soldiers running into bullets" and analogized nurses risking their own lives to save the lives of COVID-19-stricken patients as "beautiful".

How odd. How psychopathic. How death cult.

Trump knew last November that the coronavirus was going to be a serious matter for the world. He and US intelligence agencies warned Israel that very month. Yet Trump did not sound the alarm in the US in November 2019. No one did.

Trump knew that the US was going to be hit. When his own White House team began to officially document and memorialize their concerns to him in January 2020, Trump turned a blind eye and a deaf ear. And kept lying. And gaslighting. And tweeting.

In February 2020 he mocked the coronavirus as a "new hoax" of the Democratic Party. He said it would go away. As he lied and went to India and played golf and sent 17.8 tons of personal protective equipment to China that month, Americans died.

And died.

And died.

Now, 92,000 dead people later (and that is surely a conservative estimate) and counting, Trump tries to distract you from his criminality and corruption by *claiming* he himself is taking hydroxychloroquine, a deadly drug when treated for anything but malaria.

In short, Donald Trump, orange or not, smells like Jim Jones.

So much so that even Fox News, one of the many entities responsible for Trump being in the White House took a stand yesterday against the sociopathic and dangerous unstable genius:
The reality television nightmare that is Donald Trump must be removed from the White House this November. The truth is staring people in the face. Anyone who thinks that Trump will improve and become empathetic in search of a second term is either fooling themselves or drinking the hydroxychloroquine.

John Kasich, a Republican who ran against Trump in 2015 and 2016, warned in November 2015 about the danger of Donald Trump.
"What have you got to lose?", Trump often asks.

Answer: Your life.



Exhibit C: The Violent, Racist, White Right-Wingers/Trump Supporters

A loud minority, but one that the US corporate news media insists on covering (while other protests for nurses and PPE and continuing shelter at home support get little TV coverage at all), these racists, funded by billionaires like the DeVos family (yes, as in Mis-Education Secretary Betsy DeVos's family), have threatened politicians.

In Michigan this month and last, a boisterous, thuggish group of white demonstrators with guns (Michigan is an open carry weapons state), complete with live ammunition, invaded the halls of the state capitol in Lansing, threatening the life of Michigan governor Gretchen Whitmer. (WARNING: That last-linked story includes graphic, deeply distressing threats of violence and attendant descriptions.) This was after Donald Trump tweeted "LIBERATE MICHIGAN!" and referred to Whitmer as "that woman from Michigan".

Many of these Trump supporters showed up to the Lansing state capitol building, as his supporters did in Charlottesville, Virginia in 2017 with swastikas, nooses and Confederate Battle Flags. "Reopen the state!", they shouted. None were wearing masks or gloves. None were physical distancing.

And what the news media didn't cover in detail was the racist, misogynist chants of the violent pitchfork mob, which at one point was in the Michigan senate chamber gallery with their hands on their guns standing above them as the legislators were in session. The violent, virulent mask-less throngs were lathered up by their own anger, racism and misogyny.

Police did not arrest a soul.

What is clear is now that Donald Trump is in full flow of a dress rehearsal for exhorting violent racists and misogynists to attack legislatures and Democratic politicians all over the country this October and November — just in time for the election, as a voter intimidating, vote-stealing tactic. IT APPEARS VERY OBVIOUS.

There is only one thing to stop this Fall at the ballot box in the United States: a death cult. Time to check your voter registration. Time to register to vote.


Now that you have read this: thank you. And please subscribe. And check your voter registration at least twice a month and register to vote if you haven't.